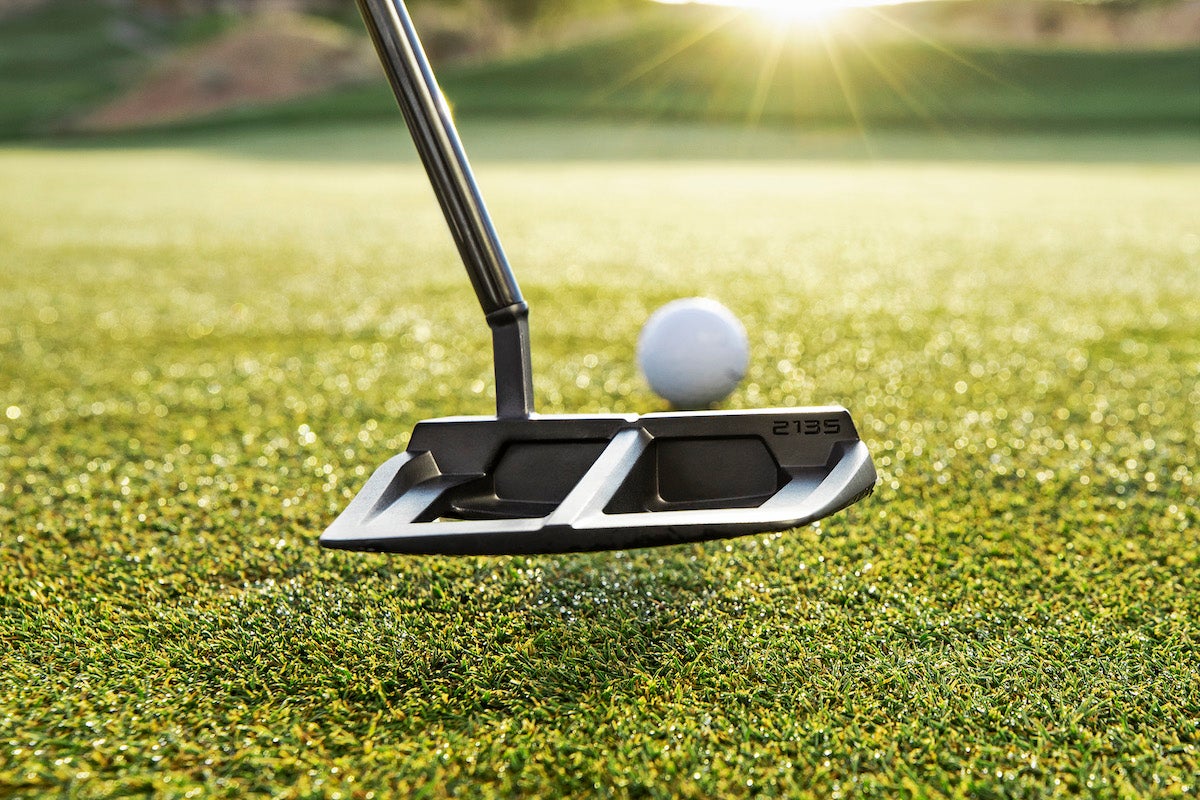 Cleveland
Welcome to Gear Questions You're Afraid to Ask, a GOLF.com series produced in partnership with Cleveland / Srixon Golf. In this column, we explore some indicators to look for come time to determine if your clubs fit your swing.
Are more tour players are using mallets these days, should I try one? – Josh S., Toronto
You're right about what you're seeing. More players on all major professional tours are putting mallet putters in the bag. The reasons are simple – mallets are easy to swing in a smooth, pendulum motion, and in most cases, they are more forgiving when you miss the sweet spot, both in terms of distance and direction.
That isn't to say mallets work for everyone.
Golfers who have arcing strokes tend to prefer blade-style putters with toe hang to accommodate those with a swinging door-like putting stroke. Which by the way, toe hang is just as it sounds. When you hold the putter horizontally from its center of balance on the shaft, the toe will either point straight down, at an angle or in the case of face-balanced putters, will point horizontally and parallel to the ground.
And, the more toe hangs, the more the putter will flow with an open-to-closed putting stroke. The less the hang, the better the putter is for less-arcing strokes.
Most mallets are face-balanced, meaning the face rests level to the ground when held horizontally as described above. This design feature coincides with the modern putting style you see a lot on professional tours these days, which is one that arcs less and is controlled not by the small muscles in the hands, but rather by a rocking motion of the shoulders. And even though every stroke has a natural arc to it, a face-balanced mallet putter helps route the putterhead on a much straighter path back and through. Also, mallets have much higher MOIs than most blade-style putters, thanks mostly to weight pushed to the far edges of putterhead. This makes them very resistant to twisting on off-center putts.
All of our market picks are independently selected and curated by the editorial team. If you buy a linked product, GOLF.COM may earn a fee. Pricing may vary.
Cleveland Frontline putters
$ 180–200
The forward center of gravity in the Frontline putters helps you hit straighter putts. The putters' tungsten face weights increase accuracy, which means you'll sink more putts in fewer strokes.
buy now
Mallets are also growing in popularity due to their alignment aids. Because they tend to be bigger from heel to toe and back to front, OEMs often employ high contrast lines, shapes and sometimes cutouts and / or negative space to help golfers aim better. Some putters like Cleveland's Frontline series take it a step further by not only using high contrast alignment aids, they also come with a notch feature called 2135 Technology that help you know if you're eyes are positioned directly over the golf ball at address (this tech is actually found in all Frontline putters). Also unique to the Frontline putters is how they're weighted. Instead of placing weight deep and back, Cleveland placed two heavy tungsten weights in the putterface at the heel and toe, bringing the CG directly behind the ball for a smoother, straighter end-over-end roll.
Mallet putters also come in different shapes to accommodate not only different tastes but different stroke styles. You can get a semi-mallet, wingback mallet and many more shapes – you can even find some mallets with some toe hang that are ideal for players who prefer an arcing stroke. In addition to varying shapes, mallets present a huge number of hosel configurations, whether it be short, plumber's neck, long, single bend, double bend and so on.
Semi mallets, or mid-mallets or even some flanged putters tend to placate less of a straight-back-and-through stroke, but still come with a boost of MOI over most traditionally shaped blade style putter designs.
If you're ready to try a mallet putter, we recommend you opt for a putter fitting to see what style best matches your natural stroke. You may think a face-balanced putter is ideal, but maybe not if you tend to have a big arc. Or if you do fit well into a high MOI mallet with face-balancing, a proper fitting will ensure you get a putter that is the right length and lie angle to help you make a consistent stroke every time.
Want to overhaul your own bag? Visit the expert fitters at affiliate partner, True Spec Golf. For more on the latest gear news, check out our latest Fully Equipped podcast below.