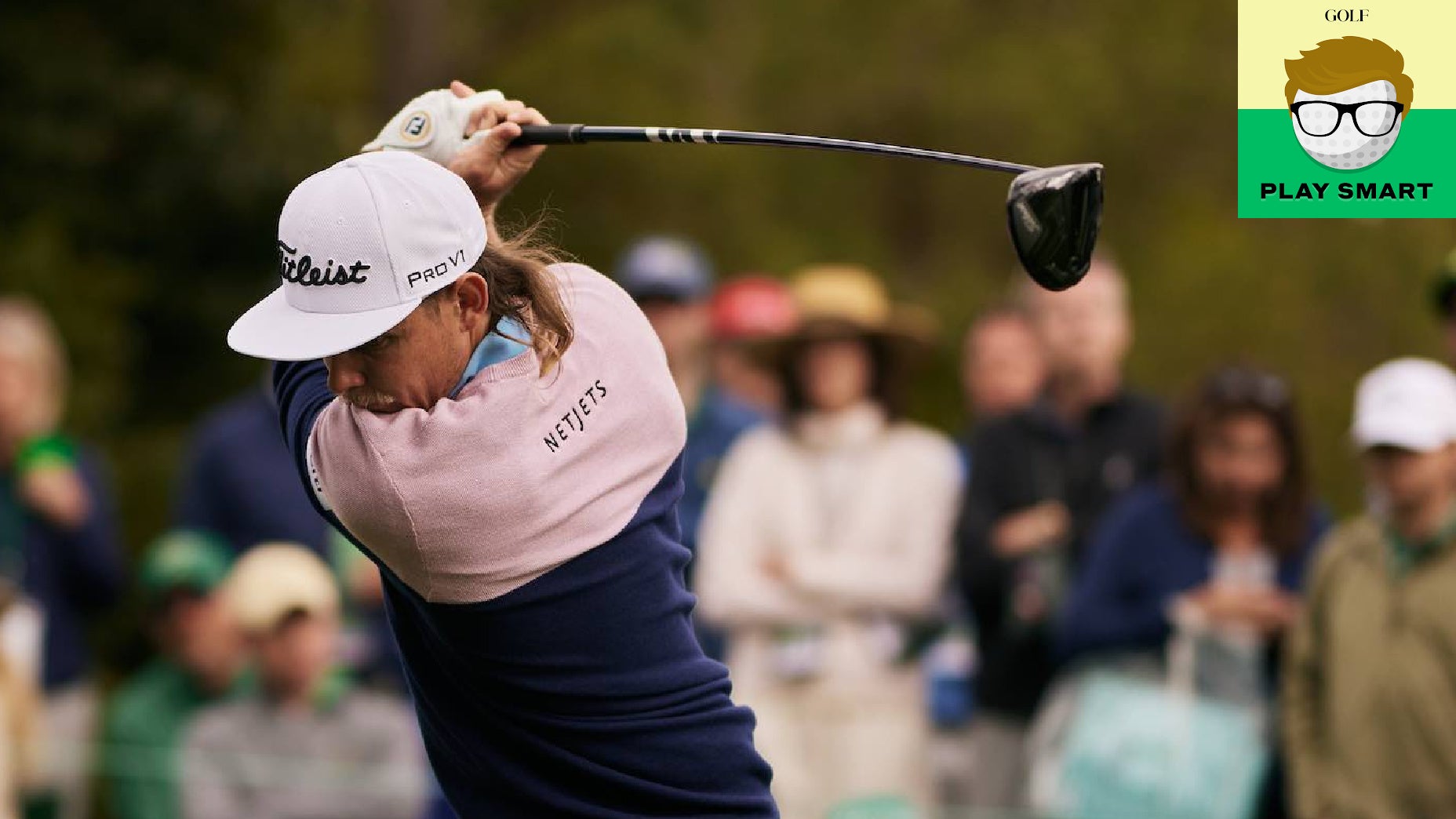 Stephen Denton
Welcome to Play Smart, a game-improvement column that drops every Monday, Wednesday and Friday from Game Improvement Editor Luke Kerr-Dineen (who you can follow on Twitter right here).
AUGUSTA, Ga. – The 2022 Masters marked a great week for the "swing your swing" movement. We saw Scottie Scheffler – whose swing Jon Rahm called "unteachable" – win the tournament at a relative stroll, while Rory McIlroy's textbook move stormed up the leaderboard on Sunday after a heroic 64.
All week, our photographer on the grounds, Stephen Denton, was busy snapping the action from behind his lens. Now, with the 2022 Masters in the books, let's take a look at a few pictures that are both visually stunning, and deeply informative.
All below photos taken by Stephen Denton.
1. Scottie's follow through
Scottie's high right shoulder follow through comes mostly off the tee, when he's trying to hit a draw. He's not trying to end up that way; it's the result of him feeling like he's using his entire body to rotate and turn the clubface over. It may look strange, but it works – and he's got a green jacket to show for it.
2. Tiger's turn
I wasn't sure what to expect from Tiger in his first official start back, post-injury, but his golf swing surpassed all expectations.
Tiger has talked often about the importance of making a big turn on his trail hip on the backswing. On Thursday, the day this picture with shot, you can see him doing that beautifully.
3. Berger's backswing
Though not a fixture at the top of the leaderboard, Daniel Berger's ultra laid-off backswing is one of a kind.
One unintended (and positive) consequence of ball-tracking technologies like Foresight and Trackman is that players and coaches are less focused on hitting positions in their golf swing if the golf ball flies well, consistently. Berger's move is a good reminder of that: The golf ball doesn't care what your golf swing looks like.
4. Sungjae's takeaway
Sungjae's slow and deliberate takeaway is something he started doing to hit the ball straighter. Combine that with him starting the clubhead outside his hands di lui – which he started doing when he tried to hit more left-t0-right fades – and the combination is one of the best drivers of the ball on Tour.
5. Cam's putting
I spent most of Sunday stalking Cam Smith on the putting green, and walked away learning so much. Including an important point: That even the best putters in the world make mistakes.
Cam missed the short putt in the picture above, but as you can see from the slope, it's understandable why.
6. Lowry's hand
Look at Shane Lowry's right hand here: It's almost coming off the club, halfway through the downswing. Lowry says he doesn't even notice he does it.
7. Rory's draw
Out of contention through 54 holes, Rory came into Sunday vowing to "give it a go." The result was a spectacular run for the ages. He's hitting more draws recently (if you look closely on the picture above, you can actually see the spin axis of the golf ball because of the black line), and he said Sunday at Augusta was a validation of the way he's swinging the golf club .
"I'm not overanalyzing it and not looking at the video too much," he said after his round. "Everything is sort of heading in the right direction, and I feel good with where my golf swing is."
8. DJ's driving
Dustin Johnson, on the other hand, wasn't feeling his driver. He felt more comfortable hitting his 3-wood throughout the week, which is what he's hitting in the picture above. It provides a good reminder for the rest of us: Even though it's a 3-wood, DJ still makes a big turn on the backswing.
9. Scottie's right elbow
Speaking of big backswing turns, Scottie makes a big, high turn with his hands and arms on the backswing. Top 100 Teacher Shaun Webb says collapsing your arms (and especially your right elbow) is a big power-killer, and there's not a hint of it here.
10. Cam's clubface
I love this picture because it puts the clubface as the primary focus. Cam Smith's is shut, and pointing toward the sky. He avoids hitting hooks because he rotates hard with his body on the downswing – something he says losing weight has helped him do more of.
11. JT's knee
Justin Thomas is one of golf's greatest pound-for-pound hitters. Looking at his lower body about him here, it's not hard to see why. He di lui right knee di lui is chasing his left leg di lui, as his hips di lui rotate with incredible speed.
12. Morikawa's swing thought
Morikawa told me once that when he's trying to hit a draw or a fade, he thinks of his ears. He wants his hands and club di lui to finish below his ears di lui to hit a draw, above to hit a fade, and on his ears di lui to hit a straight ball. Judging by this finish, the ball went straight down the middle.
13. Niemann's torso
Joaquin Niemann's flexibility makes him golf's king of side bend, which helps him tilt his body as he rotates on the downswing, and prevent the club from getting too steep.
14. Tiger's one-handed drill
I've never not seen Tiger on a putting green and hit a few one-handed putts to get a feel for the greens. It doesn't always work, but it's a simple drill he always trusts.
15. Scott's speed
Yes, Adam Scott's swing looks pretty, but don't sleep on how powerful a move that it is. The 41-year-old Scott is averaging 180 mph of ball speed this season, and I like how you can see his arms di lui fully extended in the picture above.
16. Simpson's 'save'
This picture of Webb Simpson reminds me of Scottie's finish. Low hands and a high right shoulder is a swing feeling Webb has used throughout his career when he's trying to swing out to the right, and hit a draw, like he's trying to do into 16 here.
17. DJ's release
Dustin Johnson's golf swing is about as far from Webb Simpson's as you can get. His left shoulder di lui remains high, and the clubface is still pointing at the target after the ball is gone.
18. Gary's rip
He's 86 years old and Gary Player hasn't stopped swinging hard. Sending his ball into the distance during his ceremonial tee shot, you can see he's holding nothing back.