Mizzou's "Come Home Tour" made a stop actually at home on Sunday morning. A number of athletic department personnel spoke to fans and shook hands for two hours next to the Hearnes Center. The event presented an opportunity to talk to football coach Eli Drinkwitzmen's basketball coach Dennis Gates and women's basketball coach Robin Pingeton. Here are some of the things that stood out from our conversations.
GET THE INSIDE SCOOP WITH YOUR PREMIUM SUBSCRIPTION!
NIL AND THE PORTAL: WHAT'S NEXT IN THE WILD, WILD WEST?
As they are in most conversations around college athletics right now, NIL rules and the transfer portal were top of mind. The one-time transfer waiver combined with the ability for players to be paid for their name, image and likeness has turned every player in America into a free agent. Midnight Sunday is the deadline for fall and winter sport athletes to enter the portal and be eligible at their next stop. But every day for the last nine months has really been dominated by these new rules and their repercussions.
"I think unintended consequences over the last nine months have come to fruition and we all just have to decide on what we want the future of college athletics to be," Drinkwitz said. "We need to come to some agreement on how we want to do that collectively. I think we've got to look to some leadership. Somebody's gonna have to lead in this effort. It may or may not be popular, but the avenue that we're going has escalated rather quickly. I don't think anybody expected this to be the way it came out. "
"I hope there's some kind of adjustments and I don't have the answer," Pingeton said. "It is a little bit of the wild, wild West right now and I think there's got to be a better way. I don't know what it is. I don't have the answers for it, but it's crazy times right now for sure. It's really become somewhat of a transactional business and that just is not my heart posture. I'm all about transformation and I'm all about teaching life lessons and preparing our young players to be successful in life. Unapologetically I know. "
Over the last week, multiple stories have surfaced about players entering the transfer portal or threatening to, to leverage NIL opportunities. There have been accusations of tampering by schools with players. Drinkwitz said that the SEC football coaches raised questions about some of the issues they've seen this spring at their meeting back in February.
"Nobody really thought this might happen," he said. "And now that it has, I think June's SEC meetings will be interesting to discuss what we're going to do going forward."
Gates noted that NIL isn't really a new development. It's just one that is legal and out in the open now. And coaches have only one choice: They must adapt to the rules that are currently in place as long as they are in place.
"There was a time when we didn't think Netflix was sustainable," he said. "I think whenever you're going through transition, you're going to have some skepticism and the dust has to settle a little bit. I think as the dust settles, it's a new way, it is going to be the way. "
Gates noted that there could be some new parameters and guidelines set, but nobody knows what they are at this point.
"I'll tell you one thing: The national championship game is not gonna change," Mizzou's first-year coach said. "Someone is gonna get there, someone is gonna hold up a trophy and we have to do it together and that's what I think our leadership and the NCAA will continue to stress."
How challenging will it be to build a program and manage a locker room in this era?
"Nobody knows that question because nobody's had to do it before," Drinkwitz said. "We're all kind of doing it at the same time and with the same questions and there's not a lot of answers."
BUILDING A BASKETBALL PROGRAM AT HIGH SPEED
No coach in the country may be more familiar with working through the portal than Gates. As of today, just three players from last year's roster are set to return. Gates has already added eight players to the program since taking the job less than six weeks ago and has to open spots. Asked if he would fill those spots, he didn't directly commit one way or the other.
"We are actively participating in the portal," he said. "We're participating in high school recruiting, junior college recruiting, we're leaving no stone unturned and we're gonna continue to build the relationships that will allow us to be successful, but also find the young men that I think we can win championships with. "
Last week, Gates finished up his three-man coaching staff by hiring John A. Logan College head coach Kyle Smithpeters. And that move was directly related to the new rules around transfers and college sports.
"Junior college coaches who have built rosters year by year have a competitive advantage in this space because this is what they've been accustomed to doing, building it the right way," Gates said. "Coach Smithpeters is one of the best junior college coaches in the country and if you look at those coaches across our game now, Division One, there are some great coaches who cut their teeth in the junior college ranks."
Gates said he is close to hiring another support staff position. The title will be video coordinator, but Gates said that role will be "more a director of scouting, director of analytics position."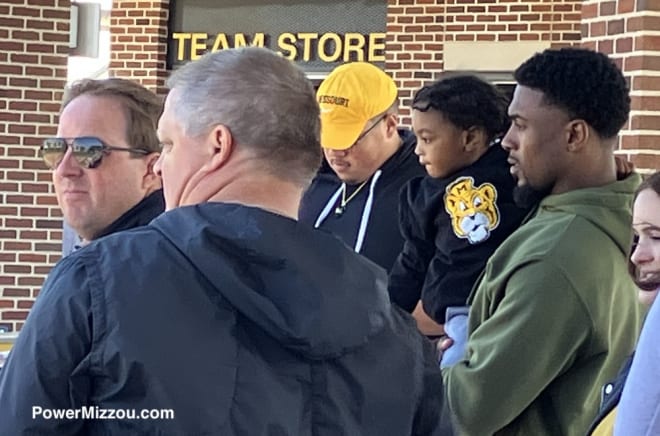 DRINKWITZ ON THE DRAFTS AND THE QUARTERBACKS
The NFL Draft finished up on Saturday and two Tigers' names we're called. Akayleb Evans was the first Missouri player off the board, going to the Minnesota Vikings in the fourth round. Tyler Badie, who led the SEC in rushing, lasted until the sixth round when he was taken by the Baltimore Ravens. For Badie, the wait was longer than many, including Drinkwitz, expected. But that doesn't matter now.
"I don't know," Drinkwitz said when asked why Badie was on the board so long. "My message to all the guys was it's not about where you get drafted, it's about what you do with the opportunity."
The key, he knows, is getting more than two players' names called. The SEC led all conferences with 65 of the 262 players picked over the last three days. That's almost exactly 25% of all draftees from one of the league's 14 teams. It's an average of more than 4.5 per team, led by a record 15 from Georgia.
"Obviously we've got to have more in the chamber, so to speak, in order to compete in this league," he said. "I don't know what the numbers were, but I do know what the defending national champion who's in our division were, I do know that Florida had somebody in the first round and South Carolina had several drafted, Kentucky had several drafted, so for us to compete, we've got to continue to raise the talent level. And not only raise the talent level, but we've got to continue doing a great job of developing the players that we recruit to our University. "
It's another draft that could have a big impact on Drinkwitz's program going forward. The Major League Baseball Draft will happen on July 11th. That's about six weeks after Mizzou freshman quarterback to be Sam Horn hits campus. Horn was recently rated as the No. 71 draft eligible prospect in the country as a pitcher who has hit 95 miles per hour.
"I'm excited for Sam and the recognition," Drinkwitz said. "The ability to play two sports is pretty special. Obviously they're going to do what's in the best interest of their family and their opportunity. We've got constant communications.
"We'll wish them the very best whatever they want to do, but I know he's excited about his opportunity to play football and baseball at the University of Missouri and we'll just have to see which one ultimately wins the day. I'm excited for him. That's a heck of a deal and it should be very proud for our fans to know that we're recruiting at such a high level that you'e got a guy who can do that. "
Meanwhile, Brady Cook and Tyler Macon are the only two scholarships on campus for the next four weeks. Of course, that could change.
"We're very excited about Tyler and Brady," Drinkwitz said. "Both of those guys have done an excellent job. Look forward to Sam coming in here and competing and you know, we'll see. Maybe add some more depth to that room, more competition to that room. "
About an hour later, Drinkwitz was at the Mizzou softball game with quarterbacks coach Bush Hamdanmultiple other Mizzou staffers and Baylor transfer Gerry Bohanon. Bohanon started the Bears' first 12 games last year and led the team to the Big 12 Championship game. He threw for 2,200 yards, 18 touchdowns and seven interceptions with another nine touchdowns rushing last season. He was injured late in the year and Blake Shapen led Baylor to the Big 12 title game win over Oklahoma State. Shapen was named the starting quarterback last week and Bohanon hit the portal.
So who will be Mizzou's starting quarterback in 2022? Stay tuned. He may not even be on the roster yet.